SLiCK! Isolation Hood Canine 1.0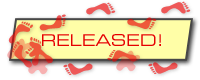 The original SLiCK! Isolation Hood 1.0 has been around for some time and it's been getting quite popular, especially with heavy bondage lovers. However a friend has pointed out that there is yet another subculture in SL who would love to see some fetish/BDSM accessories. Their disadvantage compared to the "mainstream market" is that their requirements regarding shape and sizing may get somewhat specific.
I'm talking about the furry community. Yes, all those cute wolves, foxes, kitties, rabbits, and others. They also love to have some fun with evil toys, and I decided to provide as much of it as I can. Thus the Isolation Hood Canine came to existence.
This specific variant is aimed at avatars of the canine subtype – all kinds of dogs. The shape is made to match the most canine avatars, and the shape is undeniably that of a dog. The hood shares all the evil (nice) features of its original, including (but not limited to) Hardcore mode, and enablement of rescue via the SLiCK! Emergency Rescue Tool (ERT).
To go over the long list of features available in the hood would take too much space and it would waste a lot of your time. Instead, check the new hood out at the SL Marketplace, or at E!&SLiCK! store at the Rubber Room, or at SLiCK! store at Latexia.